W J Reeves & Woodyer

Antique Watercolor & Drawing boxed set from around 1799-1816

This very rare early box of watercolors has places for a deluxe selection of 30 colors. It is one the largest watercolor sets made at the time. In addition it has drawing, drafting , writing, tools.

This huge deluxe boxed set was custom made for traveling artist or engineer.

The box measures approximately 14 3/4 inches long , 9 1/2 inches wide and 3 1/2 inches high

The copper plate engraved trade label inside the top of the box is a work of art in itself.

Shown here enlarged for detail Actual size is approximately 7 3/4 inch by 6 1/4 inch

This invention allowed artists to more easily work outdoors & travel. This began the great landscape & watercolour movement in England. It also made paint more accessible to hobbyists.

Right: A paint Block original to this box: Back side announcing the Reeves invention of the Watercolour Paint Block and their Royal warrant.

These are the best paint blocksin the box.

It is amazing that after 200 or so years these paints even exist unused.

These are the same paint blocks that luminary artists of the time used,

& made by the inventors of the paint block.

Many blocks are near complete some are partial blocks.

Most of the paint blocks are Reeves from early to mid 1800's with a few colors unidentified

and from other manufacturers.




The box contains:

Two palettes one marble & one large flat china palette . (photos below)

Two blown & cut crystal water glasses in amazingly good condition

An original key that works the lock

30 blocks or partial blocks of paint most appear to be of Reeves make: Several Paint blocks with "Reeves & Woodyer" embossed on them and the rest from later dates.

There are a few blocks by other makers

A Large Brush and a small quill brush

A labeled block of charcoal and bag of charcoal powder.

An unusual nib in the shape of a pointing hand as well as a labeled box of nibs

Drawing and drafting tools with bone handles and other supplies - see below

MORE PHOTOS AND INFORMATION: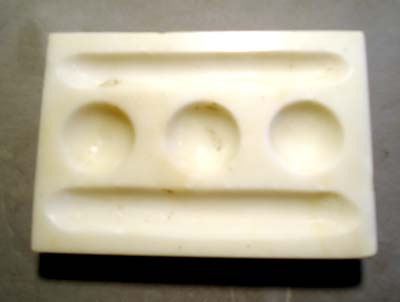 Marble palette in the WJ Reeves & Woodyer Box It fits the box well
but there is no makers mark on it. Slightly rough marble was good for earlier hard to work up paint blocks .
Later hydroscopic glycerine was added to the paint making the paint immensely more workable. These are seen in boxes of this era and is believed to be original to the box.
This palette is in very good condition for its age and has some edge chips and some discoloration from use- all normal patina from age and use.
Right is the back side of the marble palette.

It measures 3 1/2 by 5 inches and 3/4 inch thick approximately.
Above is another label that appears in the space under the blocks of paint.
It is a transcription of their award for inventing the watercolor paint block dated May 17 1781.
The name on the bottom of this award label "Theo Reeves & Son" is the father of W J Reeves. This label refers to before Thos. passed away and his son W J Reeves partnered with Woodyer. This helps to date this whole box closer to the 1799 date

Previous to the invention of paint blocks artists had to grind their paint daily or acquire a bit made up for them from a colorist who would make wet paint to order.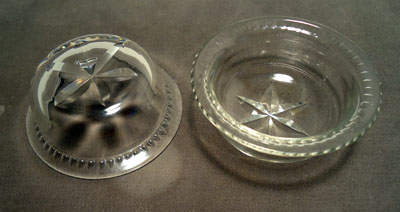 The water glasses found in the Reeves & Woodyer paint box are blown with a cut star design in the bottom.

Water glasses like these have been seen in other reeves boxes of the period and earlier, so it is believed that they are original to the box. They are in excellent shape for being about 200 years old.

These are about 2 1/2 inch across at the top and and an inch high- the star pattern is cut into the base.
Above the large flat ceramic palette in the bottom drawer.
Below the back of this palette showing some crazing , chips and discoloration patina from age.
Note the key hole of the box is mother of pearl.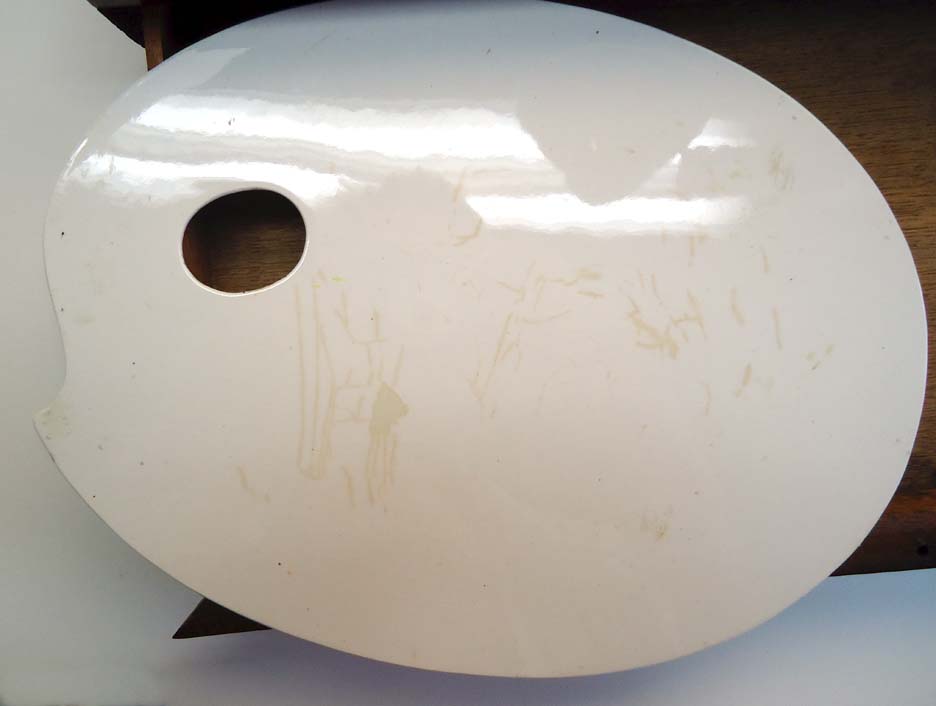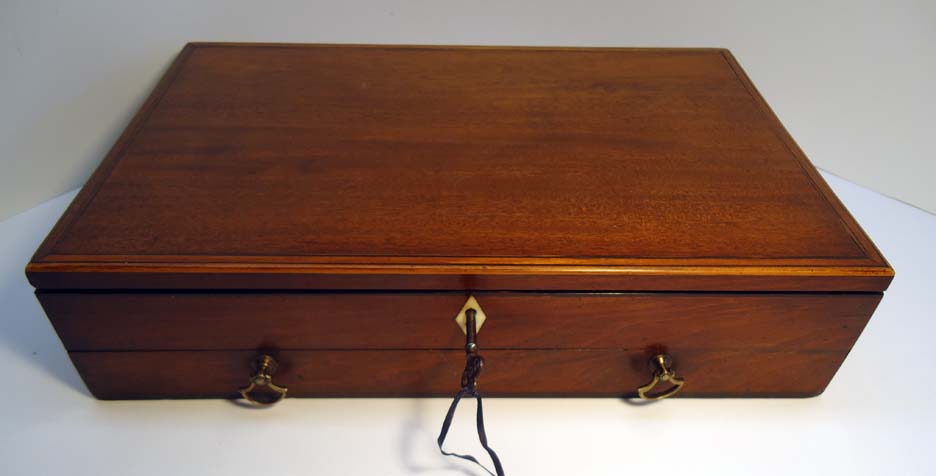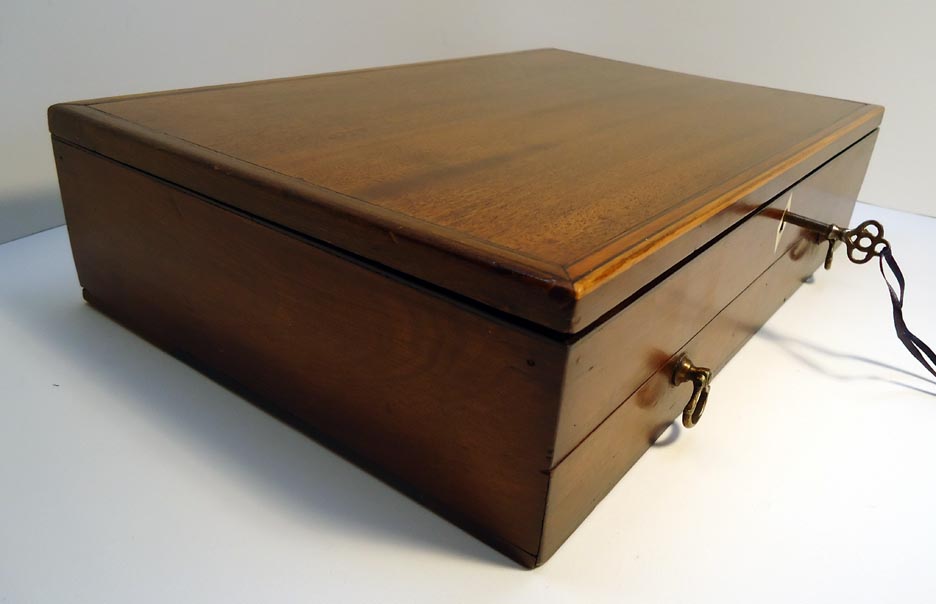 Photo above shows the top of this beautiful antique Mahogany Box showing some patina from age: scratches & color differences etc from age.
A wonderful box , lovingly used by the artist.
As with any modern professional artist's paints, water color paints may contain harmful substances. These should be handled with care. They are not for use by children.